Healing Holiday In The Heart of Italy : 7 Day Meditation Retreat
Event Location:
Tenuta di Fassia
This beautiful 7-day retreat is a perfect opportunity for you to connect with yourself; to meet and evolve with likeminded people from around the globe and share each other's stories, experiences and perspectives; to deeply destress, detox and renew your body and soul; and to grow deeper awareness of both our inner and outer worlds.
This spiritual adventure invites you to dive deep within to find your inner compass and learn how to use it effectively to wipe out old, negative self-beliefs and supercharge your mind towards a happier, healthier and more abundant life —when your inner world changes, your outer world starts to mirror that new inner world and your mind will do everything it can to help you achieve that vision.
Retreat is All Inclusive
✦ Majestic mansion with stunning views of Umbria
✦ 7 days/6 nights stay on 500 acre bio-agri farm
✦ Meditation, Yoga, Breath work, Aromatherapy
✦ Spiritual Tours to world famous sites
✦ 3 Holistic Organic farm-to-table vegetarian meals a day
✦ Cultural Immersion Workshops
✦ Comfortable accommodations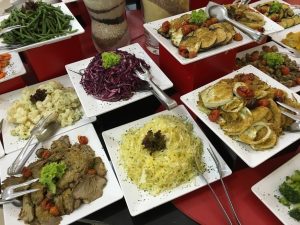 The Estate
480 hectares of unspoiled and protected nature, to immerse yourself in the splendor of the Umbrian countryside. Tenuta di Fassia is a peaceful corner just a few minutes from Gubbio, where apartments and rooms are surrounded by private lakes, tall woods and organic fields. The estate includes a variety of landscapes and domestic animals. This has been a spiritual sanctuary for decades. It is home to a small cottage industry of sustainable organic products made from locally harvested produce.
How To Get There
Biggest international airport is Rome (FCO). Florence and Bologna airports are also the same distance (approx. 200km) from the estate. There are trains and buses to the town of Gubbio, where the estate is located. See detailed transportation and driving instructions here. If there is enough interest and converging flight times, we can arrange a shuttle bus from/to the FCO airport.
Accommodation
You will have comfortable rooms for you to get a good night's rest.
We are taking Covid-19 precautions and safely putting 2 to 3 persons per room with sufficient distancing and ventilation. If you are registering with other family members or friends, we will put you in the same room. Otherwise, you will be paired with someone of the same gender. There are plenty of bathrooms which are shared between guests of the same gender. Everyone staying at the retreat should show a valid EU Digital Covid Certificate. Click on the link for details on how to get one.
Activities
From the following choices, most popular voted ones will be picked
✦  Day trip to Basilica of St Francis of Assisi
✦  Day trip to the Mediterranean coast
✦  Monte Cucco cave tour
✦  Guided E-bike tour of countryside
✦  Italian Cooking
✦  Pottery lesson
✦  Sour dough bread making
✦  Fragrances from wild herbs class
✦  Speaking basic Italian class
✦  Tarantella dance lesson
Schedule
Day 1
1 – 3 pm Arrivals
3:00 pm Welcome session, opening meditation  & orientation
6:00 pm Dinner
7:00 pm Cultural workshop
9:00 pm Adjourn for evening
Day 2 – 6
7:30 AM – Wake up exercise
8:30 AM – Breakfast
9:30 AM – Spiritual session
10:30 AM – Tea break
11:00 AM – Outdoor activity
1:00 PM – Lunch
1:45 PM – Free time w/ optional activity
4:00 PM – Spiritual/Cultural workshop
5:30 PM – Movement exercise
6:30 PM – Dinner
7:30 PM – Creative Exercise/Fireside chat
Day 7
7:30 am Wake up exercise
8:30 am Breakfast
9:30 am Meditation & Closing ceremony
12:00 pm Lunch
1:00 pm Departures
Facilitator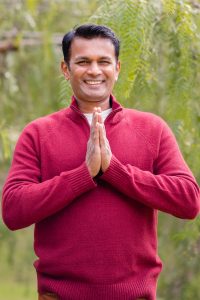 Jay Chodagam
Jay is a meditation teacher, TEDx speaker, producer of Peace in the Park festival and SPIRIT Summit conference and host for the Wise Leader retreats. After training as a monk and living in an ashram for 18 years, he is being called to create experiences that combine meditation, adventure and exotic travel. Since then, Jay has traveled to over 60 countries to help people develop SQ (spiritual quotient), to live happy and fulfilling lives, and to become successful human BEINGS instead of human doings. He has led over 100 retreats and his guided meditation and breath work tracks on InsightTimer app and Simple Habit have over 1 million views. Jay frequently speaks at companies which include Google, McKinsey and Gap Inc., and at universities including Stanford. When he is not hosting retreats or traveling, he loves to kite surf in the San Francisco Bay.
Cancellation and Transfer
Cancellations can be made until 7 days from the date of making your reservation. Transfer of your booking to another person can be made until June 3, 2022.
What Past Attendees Said
This retreat helped me let go of my self-limiting beliefs, and open my mind and heart. The tools I learnt have helped me in my daily life and I remain grateful to Jay – he is a gifted teacher and guide. Highly recommend this.
~ Gautam M., Google
The role model of the facilitator in giving of himself was as important as the material.
~ Mike K., Fresno CA
A very nurturing weekend. I am going back with more strength to face the world and will always be grateful for this experience.
~ Charu S., Stevens & Associates
Grateful to Jay for having the courage to dedicate his life to serve the souls of others.
~ Silent retreat participant
I returned home and resigned from my part time position. I told my employer that I want to teach holistic methods that support the soul and my beliefs. I believe that meditation is listening to ones' soul. The experience enabled me to close the book on my story, which in turn may lead to space for me to write a book. There is only love.
~ Cathy, Silent retreat participant
I came home happy and joyful. Outer layer of anxiety, worries diminished tremendously! Fear is gone , I am bold now. I have different energy and I have revived a lot from my recent past and am like old me as I was 2-1/2 years ago! Thank you Jay!
~ Silent retreat participant
Silence is so powerful. Try to be in silence at least once a month at my own home.
~ Silent retreat participant
I am going through tough relationship issues. When we did creative exercise I felt connection with everyone in a room. I felt I am not alone anymore. I can face the whole world and the whole universe is ready to help me. The words from your mouth "May all you sorrow go away." I felt I have no more sorrow in my life. I'll try my best to keep this magic going. Thank you again brother Jay!
~ Silent retreat participant
The people were amazing! I loved how you set up the norms in the beginning, no titles, and the storytelling format to encourage vulnerability! Loved the fact that the facilitators were also participants. Leveled the playing field quite a bit and the focus on beginner's mind.
~ Wise Leader retreat participant
Sorry, this event is expired and no longer available.