Healing Holiday in the Heart of Italy
Spiritual Retreat July 3-9, 2022
Live a life that matters, ready or not, someday it will all come to an end. What will matter is not your success but your significance. Not what you got but what you gave. Not what you bought but what you built. Not your competence but your character.
Darius Mirshahzadeh
Jay was hired for a CEO retreat we conducted. He did an amazing talk on mindfulness, being present, utilizing meditation to achieve a sense of fulfillment, and did an amazing workshop and guided meditation for our group. Everyone was very impressed and I give Jay the highest recommendation possible. I am excited to hear him speak at our TEDxGoldenGatePark event in October.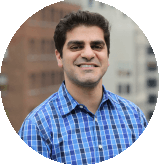 Armen Berjikly
Tom Davin
Jay led a meditation workshop for my Senior Leadership team and their spouses. Some of my leaders were reluctant to participate, but Jay developed an immediate rapport with the entire group. He combined scientific evidence supporting meditation with some introductory practice. The session was a great success.